I had a restful holiday week. During the quiet, as I was listening to holiday music on the Pandora Chill Christmas station, I found myself reflecting on the spectacular humans I got to chat with on the MY FOURTH ACT podcast last year.
It was my second season. I had 42 conversations with guests who hail from every part of the world. Iceland, Ukraine, Bangladesh, Germany, Argentina and of course, many from right here in the United States.
I spoke with the CEO of Homeboy Industries in LA, with the Wall Street Journal's only full-time obituary writer, with an indigenous ceremonialist, celebrated writers, painters, former beauty queens, several individuals associated with the legendary Esalen Institute on California's Big Sur, musical theatre luminaries, social activists, a Tibetan Buddhist lama, a small business rockstar, a clown, and many other brilliant humans.
A lot of wisdom was shared by my inspiring guests. Themes emerged. And what I learned from these conversations informs my thoughts on where to put my attention in 2023.
Click here to listen to my message:
If you are facing 2023 with thoughts of doubt, with uncertainty, or perhaps not feeling all that great about 2022, I leave you with lessons from my conversation with Faisal Hoque last year.
In 2021, Faisal was facing a few life challenges. His teenage son was unexpectedly diagnosed with a serious medical condition. Faisal's mom moved to a nursing home. When Fast Company Publishing approached Faisal to write a new book, more writing was really the last thing on his mind.
Well, the book "Lift" became a #1 Wall Street Journal and USA Today bestseller in 2022. When Fast Company reissued Faisal's earlier book, "Everything Connects," he had a second #1 Wall Street Journal bestseller on his hands. And Fast Company is publishing his new book "Reinvent" in March of 2023.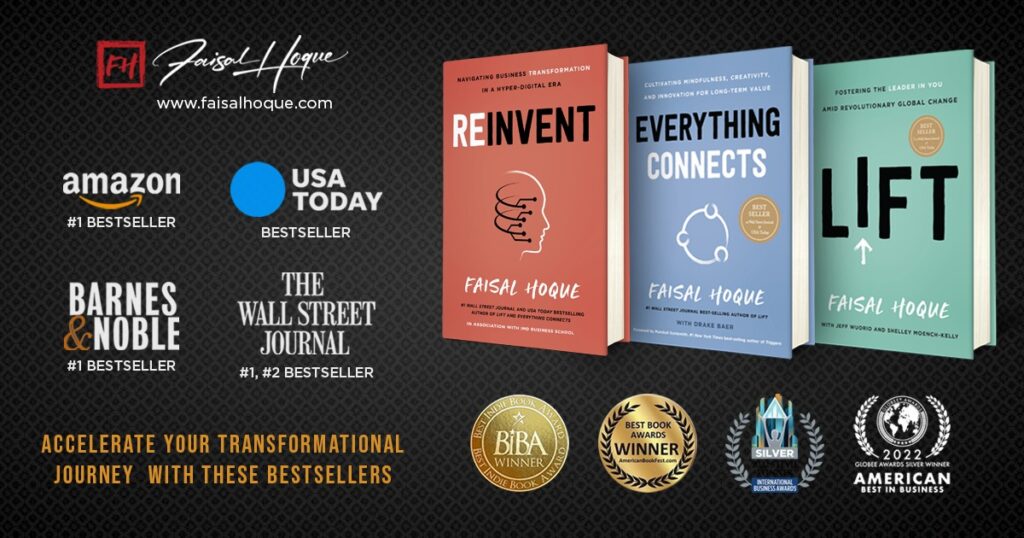 Out of a time of serious challenges a triumphant year emerged. And none of this had been on Faisal's mind at the start of 2022.
My wish for you and me as we head into 2023 is this. Sure, let's have a plan or two. But more importantly perhaps, let us be willing to be surprised. Let us pay attention to what wants to emerge. Let us notice it and not squash it. It may be the call of a whole other new opportunity or endeavor, one beyond anything we can currently envision for ourselves.
Have a 2023 full of delicious surprises. And for inspirational reading, I recommend the writings of celebrated business thinker Faisal Hoque.